Energy & Environment
Arizona has made progress the past few years in establishing more types of affordable, reliable power, building the first renewable portfolio standard in the country, and aggressively pushing for higher energy-efficiency standards.
I believe Washington must embrace a sound "all of the above" energy solution and take this approach to factories, power plants, and businesses across the country.
Not only should we optimize the use of our traditional energy reserves, but  we also should continue to expand into renewable energy resources such as wind, solar, hydro-electric, nuclear and geothermal power.  All of these are vital to the economic welfare and national security of the United States. 
However, the government must stop picking winners and losers in the industry. Each of these sources must stand on their own in the marketplace, without government-sponsored interference.More and more cities and towns within Congressional District 6 and around Arizona are changing their practices to better use the resources available in a long-lasting, renewable fashion-- there's a chance for real change.  
Arizona is leading the way in new, advanced technologies in the energy and environment space. Battery storage, micro-grid development, and carbon capture and storage are just a few examples of 21st century technology that Arizona is not only leading the way in R&D, but also actual implementation, without oppressive regulatory burdens and mandates. The free market has led to an incredible growth in technologies that has led America to become a net-exporter of energy for the first time in our history, while also reducing our greenhouse gas emissions. As pro-growth, market-based solutions have led to exciting new techniques in soil health, water sustainability, and agricultural research that reduces land-use while increasing crop yields, allowing us to feed our ever-growing planet. I will continue to work with my colleagues to identify new sources of power that will lower our families' monthly bills and allow our economy to grow.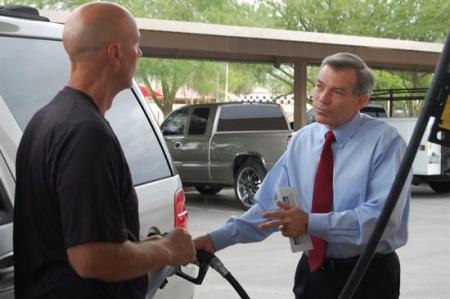 David pumps gas and talks with constituents in Scottsdale
More on Energy & Environment